This project actually began as a remodel/addition an of an old, tired, and structurally deficient Cape Cod styled home. It was quickly determined that it would be more cost efficient to tear down the house and start over. But because of the new planning and building envelope restrictions, we went through a series of public hearings that ultimately resulted in the rewriting of three code restrictions and the granting of two variances.

The site is nearly two acres, but because much of the backyard is at a lower elevation we built a large paved deck area that where the family spends much of their time outdoors. Below the deck is a large garage that is partially below grade.

The focal element of the two story entry is a curving staircase topped with a large fiberglass dome that is illuminated around its perimeter by changing fiber optic lighting.

While the house is grand in every sense of the word, the fineness of the architectural detailing and the design of smaller spaces within the whole allow a large house to be a very comfortable home.
(Interior by Edward Knight)
High up on a hill in San Luis Obispo, with unequalled views, this very extensive residential remodel of a 70's built house was for husband and wife doctors and their two children.

The owners wanted a very modern home that made the most of its expansive views with clean uncluttered interior spaces. This was made especially difficult as the existing house had low, downward sloping roofs that severely limited the views of the town below. The house plan was also broken up by twelve different floor levels that made the interior spaces both confusing and physically tiring.

The main level of the house now has 180 views with areas defined by a changes in flooring materials, ceiling heights and furniture groupings. The bedrooms and more intimate spaces are on the upper and lower floors.
The clients are an older couple who wanted their new home to reflect his love of California ranch architecture and her Japanese cultural heritage.

The house is sited on a large site punctuated with protected oak trees and a dry stream bed that channels water during heavy rain storms. The house has exterior walls of thick plaster resting on a natural stone base on top of which large structural wood beams form a high interior ceiling. Natural light from a linear skylight at the main ridge beam renders the interior with changing light throughout the day.

The effect is both strong and airy with a Californian ruggedness and the refinement and layering of traditional Japanese house architecture.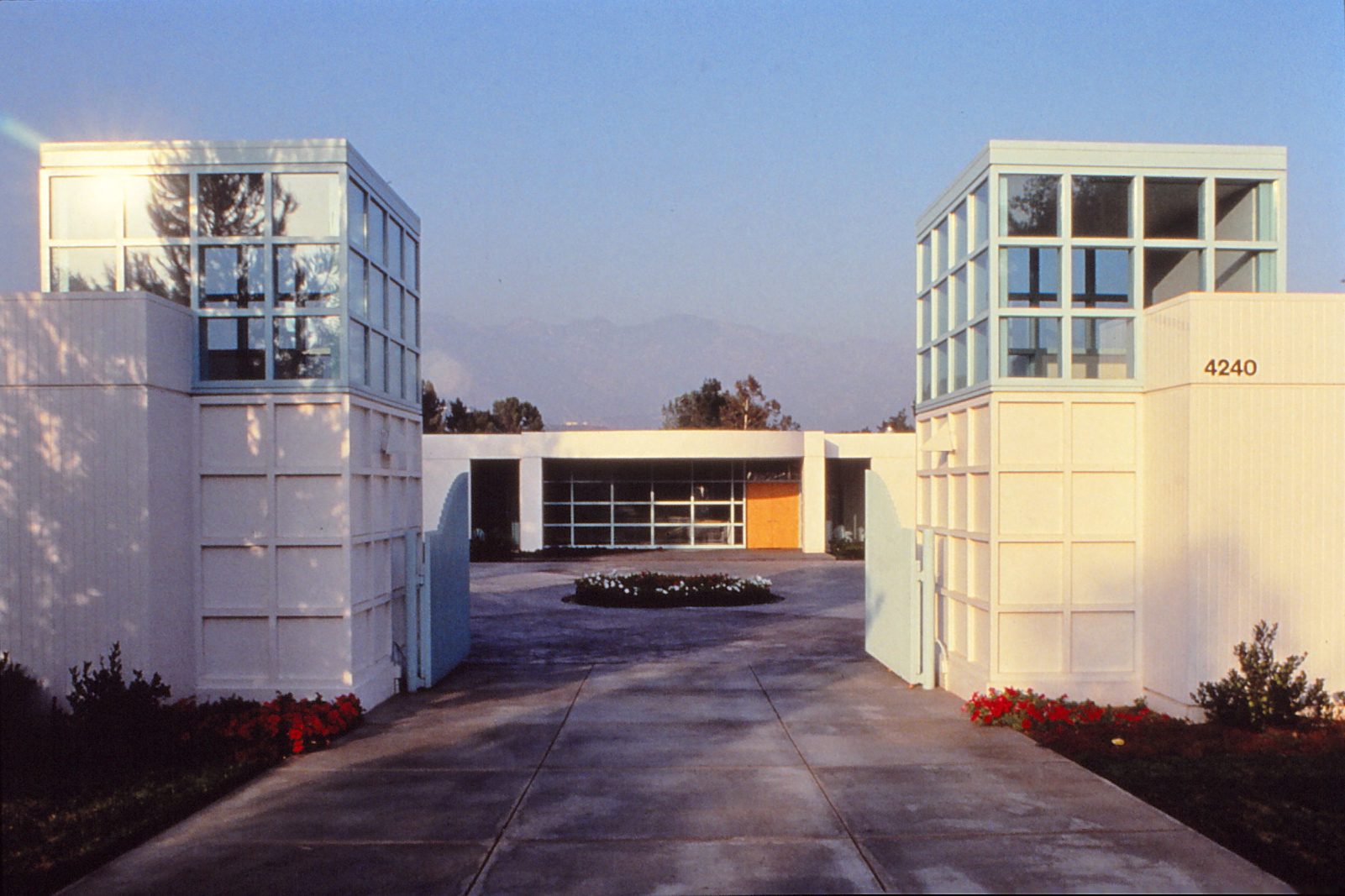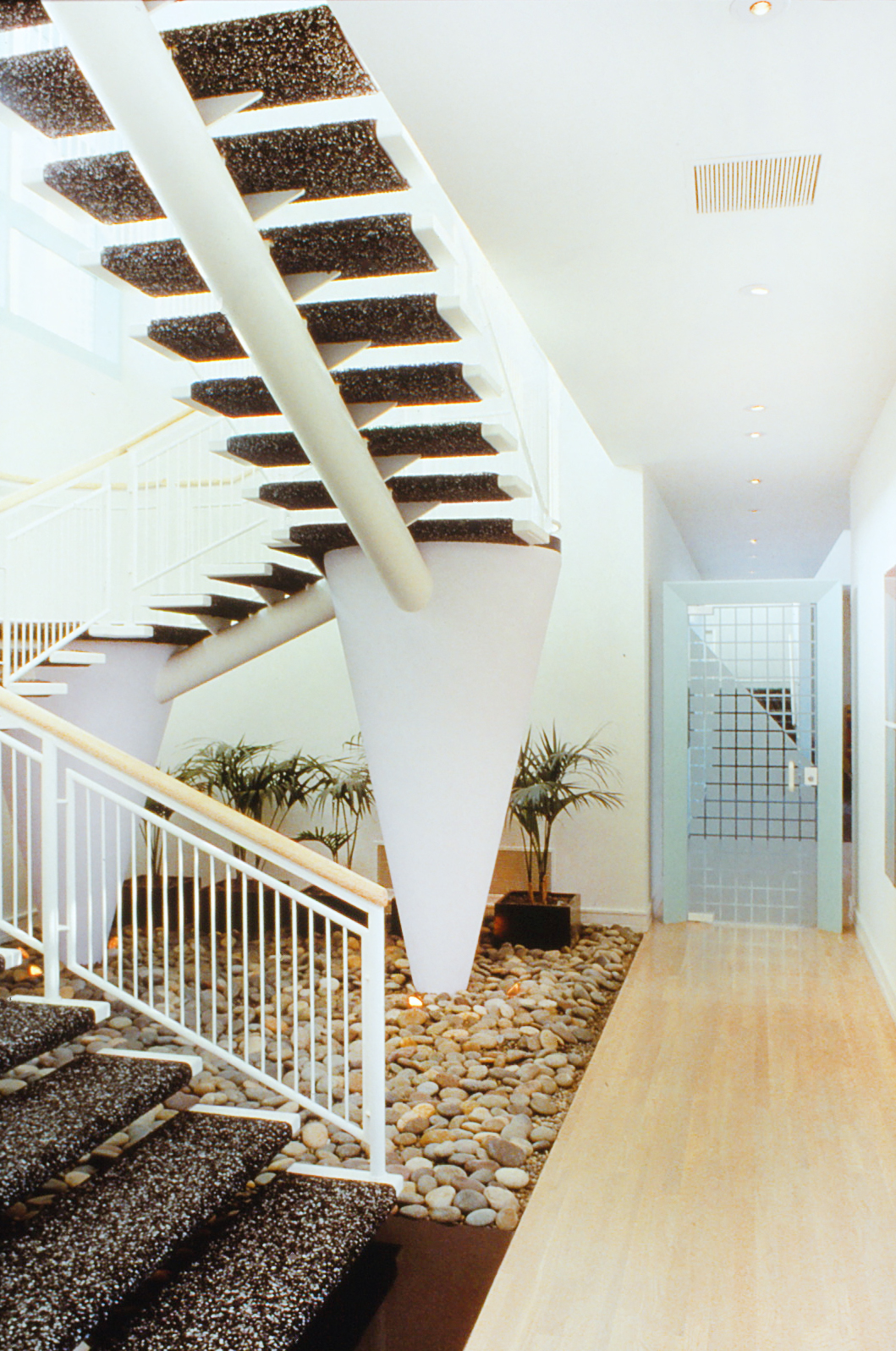 Designed for a family of four, this 6000 square foot two story residence was envisioned by the owners to be very modern home defined by natural light and interconnected open living spaces.

Sitting on a nearly 2 acre site the house is approached by driving through two gatehouses (one a studio, the other a small guest house) into a large motor court defined on the sides by a garage structure and a tree bosque. The house is entered at the second level which is connected by a stair atrium leading down to the kitchen and main living rooms at the garden level.

The garden level is connected to an expansive landscaped backyard defined by large oak trees in the distance and accented by a large circular swimming pool positioned as a sculptural element.
A plastic surgeon and his wife always loved Mediterranean styled homes for their sense of serenity, but they needed a home with modern open spaces that suited their busy lifestyle with their two children.

In dreaming about their new home, the husband had always envisioned a circular stair tower as a signature architectural element. We expanded on that idea and designed a spacious two story rotunda around which we organized the major spaces of the house.

While the house has the feeling of enclosure and security of the Mediterranean style, more contemporary elements have been woven into architecture to provide abundant natural light and dynamic spaces and a sense of delight.